---
Meet the moment of creation in all area
There is a wide variety of facilities and equipment on campus because we put emphasis on hands-on approach. Students can fully use it to create art works of varieties of areas as well as their own specialized fields. They can deepen exchanges with other students beyond the field through working together. They can also take advantage of the opportunities to see the creating process of the teaching staff as the professional creators.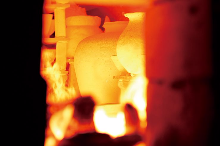 This is a traditional Japanese kiln.
Neither electricity nor gas is used. It takes time to heat this kiln and the temperature needs to be controlled by adding fuels.
So students usually work all night for three straight nights when using it.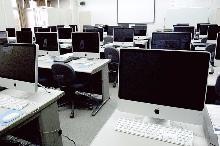 Mac which is mainstream computer in design industry is equipped.
Technical support is always available by teaching staff.
Students can use them for various purposes; creation of artworks, direct-mail for personal exhibition and also name-card.
Privacy is secured by the password-protected system.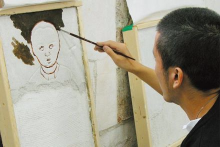 The rooms are exclusively used for traditional Fresco painting. Putting pigments before drying up the surface makes the color durable for thousands years.
Multi Purpose Working Room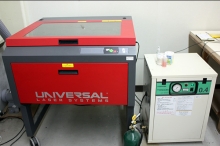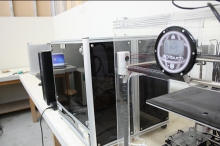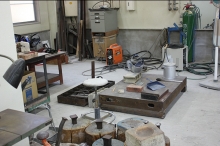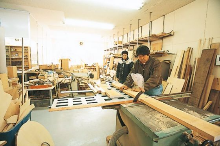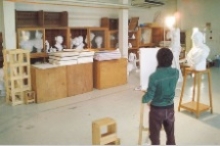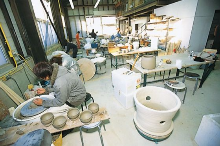 Pottery Studio, Plaster Working Room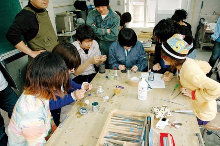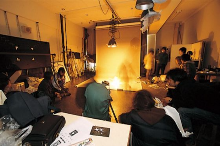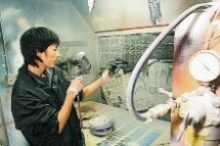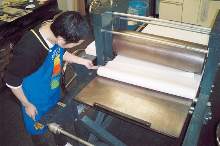 Printmaking Working Room
(Lighography, Etching Press)